Read about: Events / Newsletters / Repository / Research Network Meetings / Website
It is important that the findings of research are shared, as:
Healthcare practice moves forward through the use of research findings;

Commissioners use robust research evidence to support their commissioning decisions;

Research participants often value receiving the results of research they've been involved in as this recognises the importance of their contribution;

Other researchers can use research findings to inform their own research studies;

Published research contributes to the growing body of knowledge which can be accessed by academics, clinicians, students, commissioners, or anyone with an interest in research.
It is important to share research findings, even if nothing significant was discovered – not finding anything can also be an interesting result. Publishing or disseminating this sort of finding also ensures that others can see that the research has already been carried out, so that they do not waste time and money attempting to replicate the research.
Dissemination can take many forms. The most traditional is a published journal article. You can use a service like NHS Evidence to identify a suitable publication. Journals will usually have a website which gives instructions on submitting. Many research funders require research findings to be published in an open access publication.
You can also contact the press with any key findings, in particular in 'hot topic' areas. For advice on writing a press release see here.
You may want to promote a finding or an article via social media, or via a research specific social media platform e.g. ResearchGate.
Fast Track Impact has offered the following top tips for using Twitter to enhance the impact of your research.
How we can help
We can help you to disseminate your research findings. Please contact Research Engagement Officer Gemma Doran if you would like to discuss research engagement and knowledge transfer opportunities in further detail. Some of these opportunities include:
We hold twice yearly themed evidence events, where research findings are shared. You can read about our most recent events below:
If you would like to be informed about future events, please contact us.
Our next event will take place in May 2019 with the theme of dementia research.
The West Yorkshire R&D Team feed into various newsletters, including those received directly by commissioners and health professionals. Please contact us if you would like to contribute information to these newsletters, for example if you need to: raise awareness of a research related event or training opportunity; increase awareness of and recruitment to a research study; disseminate results and learning from research; or generally raise awareness about research related activity. To disseminate information this way in the area please contact us to discuss.
Alongside these pre-existing newsletters the WY R&D team create a newsletter aimed at anyone with an interest in NHS research who signs up to our mailing list:
If you would like to contribute to these please contact the team. If you would like to receive these then please join our mailing list.
The West Yorkshire R&D Team can publish or link to articles in our repository.
The West Yorkshire R&D Team hold research network meetings. These are open to attendance by practice managers, general practitioners and any general practice staff members with an interest in research. These sessions include presentations given by researchers about studies taking place across locally.
These meetings begin with a mee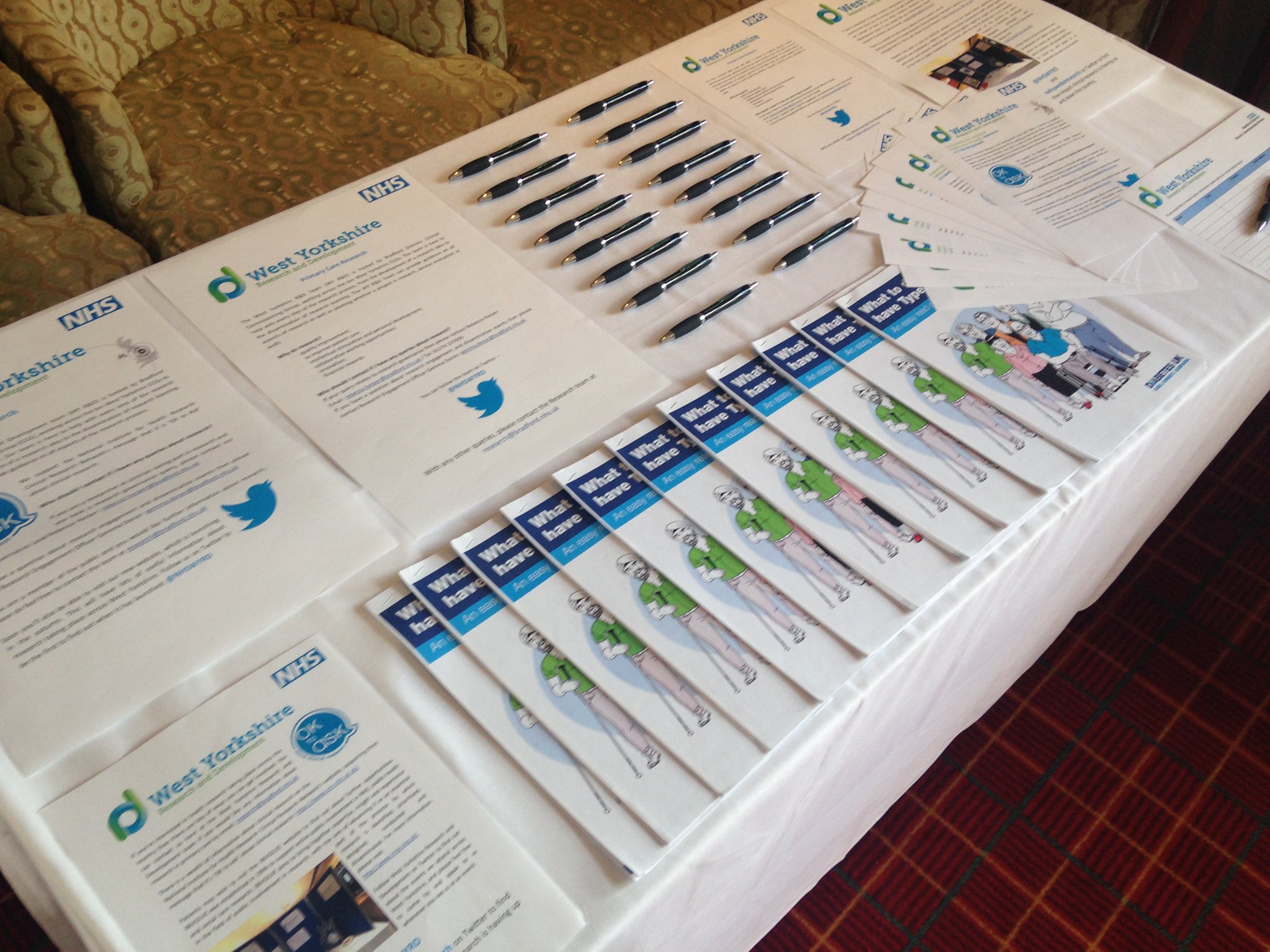 t and greet session where research professionals can network over a buffet lunch. This is followed by presentations by academics sharing information about upcoming projects, studies open for recruitment, or research study findings. We aim to provide an opportunity for the discussion of any potential research ideas that you wish to explore, so as to enable the troubleshooting of issues that may arise in relation to the practicalities of delivering a research project in a primary care setting; this feedback can then be taken into account during the early stages of a project's development. These meetings are also a chance for study teams to thank those who have taken part in a study whilst sharing study findings.
Our colleagues from the Clinical Research Network: Yorkshire & Humber Division 5 are often present at these meetings, providing further opportunities for collaboration between the National Institute for Health Research, commissioners, research academics and healthcare professionals. There is always time set aside for any questions or discussion around the topics presented, where we share our experiences of research in primary care and learn from each other.
To register interest in presenting your research findings at a future network meeting then please contact us.
We can share information about your research findings via our website and Twitter.